As a child I reluctantly ate the dry, stale macaroons that came in a can.  I didn't really like them, but I was unwilling to pass on a sweet.  The first time I was invited to a seder as a young adult, I was asked to bring a desert.  I couldn't bring myself to buy any of the offerings at my local grocery store so I scoured acceptable substitute.  The first recipe I made was overly complicated, but the results were delicious.
Over the years, I have experimented with many variations.  Finally, I gave up and heavily modified a traditional macaroon recipe to make it passover friendly.  When I make this recipe they are not technically kosher for passover, because the sweetened coconut doesn't have the proper hechsher. But if you found a certified brand of sweetened coconut they could be…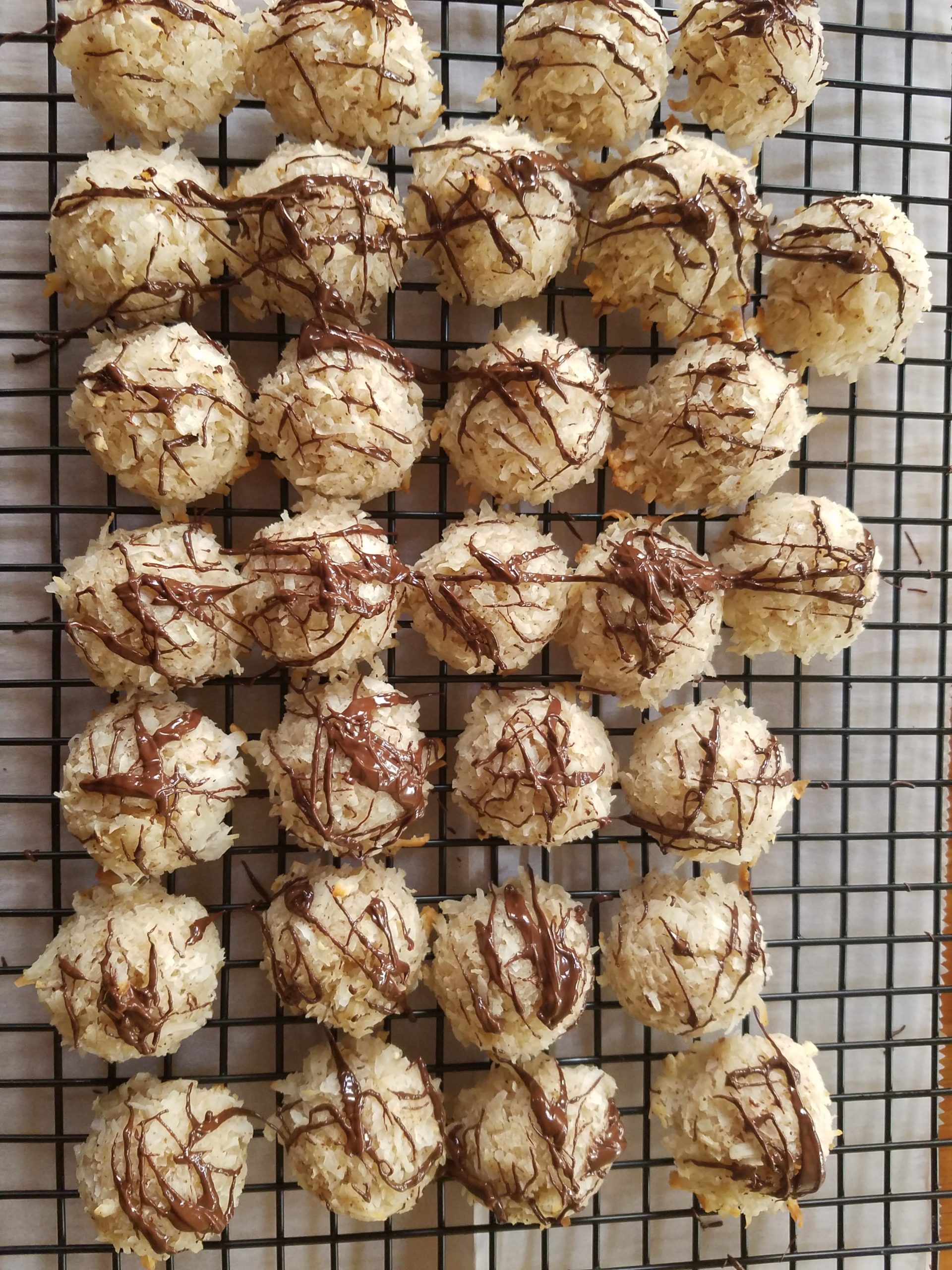 Easy Passover Macaroons
Move over crumbly Passover cake and dry macaroons. These macaroons are sweet, light, and chewy.
Ingredients
14

oz

sweetened shredded coconut

(I usually use BAKER'S brand)

6

tbsp

almond meal

(I usually grind whole almonds in the food processor)

1

tbsp

matzoh meal

1/4

tsp

salt

4

egg whites

1

tsp

vanilla extract

chocolate chips

(optional)
Instructions
Whisk together egg whites, almond meal, matzoh meal, vanilla, and salt.

Add coconut and stir to combine. It can be hard to get it well mixed so don't hesitate to use your hands if necessary.

Mold tablespoons of dough into a tablespoon measuring spoon and carefully slide them onto a cookie sheet covered in a silicon mat or parchment paper. This will result in little domes. The cookies don't spread so they can be placed close together.

Remove from the cookie sheet immediately and cool completely on a wire rack. The cookies won't brown except for slightly on the bottom and edges.

Melt chocolate chips and drizzle chocolate over the cookies
Notes
Store in a airtight container in the refrigerator for up to a week.